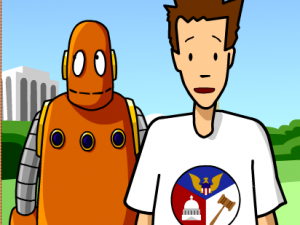 Click on Tim and Moby's picture to watch the video on "Checks and Balances."
We will play the review quiz and complete the Graphic Organizer during class as an introductory activity. Students, you have access to brainpop.com until 5:30 pm to watch the short movie clips, play the review games, and extend your learning.
FACT FIND using the slideshow below. Strive for Accuracy and check your work. Your handout should match the FACT FIND SLIDESHOW. You will use this slideshow for an assignment using the iPad apps. ON A MOBILE DEVICE? CLICK HERE FOR THE GOOGLE DOC!
EXTRA CREDIT OPPORTUNITIES: Share pop culture connections by posting a stickie below or add to the discussion by watching and commenting on previously stickies.

Stay tuned for additional Posts on the Constitution.