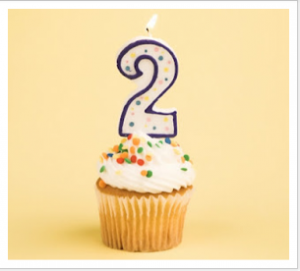 http://bit.ly/H9IcL6
Anthony in D pd reminded me that our blog was 2 years old.  Thanks, Ant! 😀 He suggested we celebrate!  Mr. Z and his classes celebrated their blog's 1st birthday by adopting a virtual pet for their blog, a pig, named Don.  Visit Mr. Z's 8th grade Math blog to meet their virtual pet by CLICKING HERE. Don't forget to feed him an apple and if you post a comment following digital citizenship guidelines you will earn extra credit points. Take our Class Poll Below.  
We started our blog in 2010 with a very enthusiastic 8th grade class (The Class of 2010). They are now Sophomores in HS. EXTRA CREDIT: Do you know any current Sophomores or Freshmen that graduated from Yellow? Get them to post a comment on the blog telling us that YOU sent them and you will earn points. The class with the most points will get a sweet treat!
Over the past 2 years- 3 8th grade classes (approximately 385 students) and over 11,500 global visitors navigated our blog to post pop culture connections, review lessons, watch videos, and leave comments. Thank you global guests, students and staff for sharing your learning on our blog.

We are proud to be part of the Edublogs community.  Let's Celebrate like it's 1607, Colonial Style.  We will set a date in class to bring in Colonial foods using authentic recipes.  Volunteers will earn extra credit.  Stay tuned because recipes will be distributed in class.  
A very special thank you to 2 individuals that inspired me in immeasurable ways. Sue Waters, thank you sincerely for dedicating your time and expertise. I can always count on you to answer questions, fix glitches, and provide relevant, meaningful blog posts designed to challenge us to be better bloggers, 21st century learners and global citizens. 😀 Thank you, Kathleen Morris! The 2KM blog exposed me to compelling opportunities to improve student literacy, showcase student work, and share with an authentic global audience. Your students' especially Bianca, thoughtful and well written comments prompted continuous dialogue centered around learning. Meet Ms. Morris and her students by visiting their class blog.