Mr. Z and his classes started the school year by adopting a virtual pet for their blog, a panda. Visit Mr. Z's 8th grade Math blog to meet their virtual pet by CLICKING HERE. Don't forget to feed him and if you post a comment following digital citizenship guidelines you will earn extra credit points. Take our Class Poll Below.


Over the past 2 years- 4 8th grade classes (approximately 550 students) and close to 15,000 global visitors navigated our blog to post pop culture connections, review lessons, watch videos, and leave comments.Thank you global guests, students and staff for sharing your learning on our blog. We are proud to be part of the Edublogs community.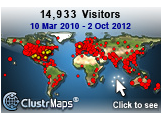 Please post a comment answering ONE or more of the following questions/prompt.
1. If our Virtual Pet could speak, how should he/she introduce our blog to guests?
2. How do you plan to use the class blog this year?
3. What do you like about the class blog? What would you like to see/add to the blog?