Students will wrap up their Constitution In Plain English Projects this week.
Project Timeline for Group & Individual Projects:
WEDNESDAY
Groups: Each student in each group is responsible to create images for their section of the storyboard – All IMAGES are COMPLETED, COLORED, CUT & EMPHASIZE THE MAIN IDEA
Individuals: At LEAST 3 PAGES OF PICTURE BOOK COMPLETED with TEXT AND IMAGES.
THURSDAY
Groups: Dress Rehearsal + Film your final movie – Schedule for Filming
Individual: FINISH LAST 3 PAGES OF PICTURE BOOK
FRIDAY
ALL STUDENTS – PRESENTATIONS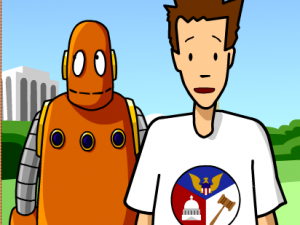 Click on Tim and Moby's picture to watch the video on "Checks and Balances."
We will play the review quiz and complete the Graphic Organizer during class as an introductory activity. Students, you have access to brainpop.com until 5:30 pm to watch the short movie clips, play the review games, and extend your learning.
FACT FIND using the slideshow below. Strive for Accuracy and check your work. Your handout should match the FACT FIND SLIDESHOW. You will use this slideshow for an assignment using the iPad apps. ON A MOBILE DEVICE? CLICK HERE FOR THE GOOGLE DOC!
EXTRA CREDIT OPPORTUNITIES: Share pop culture connections by posting a stickie below or add to the discussion by watching and commenting on previously stickies.